In memoriam - Simon Löwe vom Osning (Tom)
*26.06.2000 †20.07.2009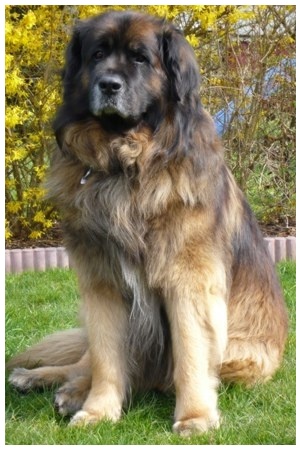 Our first Leonberger "Simon Löwe vom Osning" known as TOM died peacefully on 20 July 2009. In the morning he lay down on his favourite spot in the kitchen and fell asleep for the last time. Tom was 9 years old. We would have liked very much for him to spend a few more years with us.

Here's a brief history of his life:


| | |
| --- | --- |
| Our Tom was born on 26 June 2000 in Hagen in the Teutoburger Forest. On 2 September we picked him up and he was greeted warmly at home in Haselau by neighbours and friends. | |
| | Tom reluctantly went to "dog school" and successfully passed his obedience training on 24 March 2002. He was glad that this was the end of his time at school. |
| When Tom was about one year old we were approached by a dog breeder who recommended that Tom take part in conformation shows. In his first show in Neumünster in 2001 Tom won first prize in his category. The same year we went to the CACIB in Erfurt, Dortmund and Hannover, where he also won first prize. He won the titles "Bundesjugendsieger 2001"and "Landesgruppenjugendsieger Thüringen". After these four early successes in the junior classes we regularly showed Tom. We travelled with Tom to shows in Sweden, Belgium, the Netherlands, Poland, Denmark and Austria. | |
| | On 27 May 2004 our Tom won the "International Champion" title and on 27 October 2004 the "Deutscher Champion 2004 VDH". On 29 March 2003 he won the titles "Sieger Berlin 2003" and on 24 April 2005 the "Sieger Dresden 2005". In October 2008 in Rostock he was crowned BOB "Best of Breed" for the last time in his life. |
| His first three years he spent on his own with us before we got a second Leonberger. Tom was very attached to us; he was a good guard dog and a faithful companion. Right up to his death he was the accepted leader of his pack. | |


Tom fathered 12 litters which produced 108 puppies. His legacy lives on in his daughter Shiva and his son Bruno.


We are grateful to Tom for the wonderful time we spent together and we will never forget him. Tom was truly unique.